Tomatoe, tomatoe; staging, flipping.  No matter how you say it; whether you actually live in the house and are selling it or it's an investment property, the first rule of reselling homes always applys.
1. Work backwards from the potential list of what COULD exist within the current walls.
It's no joke that home prices are skyrocketing and we're all having to deal with smaller spaces than we were 5 even 10 years ago.  The first thing you need to think about when selling homes is not your dream list but FUNCTION.
Perfect example; we were dealing with a house with standalone garage behind it.  There was a parking pad in the front but a full 2 car garage in the back, and being located in Canada, I knew winter would surface at some point.
Logically, anyone who lived here would make good use of the garage and keep their whip under cover for safety, easy access in snowstorms, less wear and tear etc.  We didn't even question that despite having a front door, anyone who would live in the house would PRIMARILY access the house from the back, ie via the garage, through the yard and into the house.
As it stood you followed the path from the garage to the back door which worked, but the rickety stairs led you into this large room.
To the right of the door more space and a nice big window.
The wall in front ahead confirmed all suspicions of an add on with its brick facade and filled in window.
And there was a pass through to the kitchen
It's a 2 storey house with an unfinished basement; 1 bath up, 1 bath in the basement.
Wheels are turning
So you get home, have full hands, maybe a kid in tow and need places to put stuff, ample room for storage and every female has to hit the loo.  Circling back to the dream list meets function would make a great place for a mudroom with laundry area and bathroom next door.
Now if you've ever been tasked with finding the right mudroom furniture you'll know its hard to find things that work and fit, so rather leave that to someone else we'd take that off their list and make it convenient.
Following the show a horse to water analogy we just built it right in – a bench to either sit on while taking off shoes and coats or throw things on, with cute owl hooks above and storage cubbies below.
We also moved the laundry up from the unfinished basement; that was part of a larger decision to leave it unfinished for the new owner since it required underpinning and excavation to make useable.  Again reverting to function, at least a new buyer could move in and have 2 beautifully finished floors that they could entirely function in and do what they wanted with the basement.
In splitting one big room we gained 2 spaces with 3 functions – bath, laundry and mudroom- all separated by a pocket door.  All that was left to do was enlarge the door openings to be as wide as possible, install fresh drywall, continue the new flooring throughout the house, install new lighting and fixtures and give it a serious paint job (the more involved part!)
Turns out it was actually possible to install a full 3-piece bathroom rather than a powder room.  Light, bright, airy and insanely functional; one can never have enough bathrooms!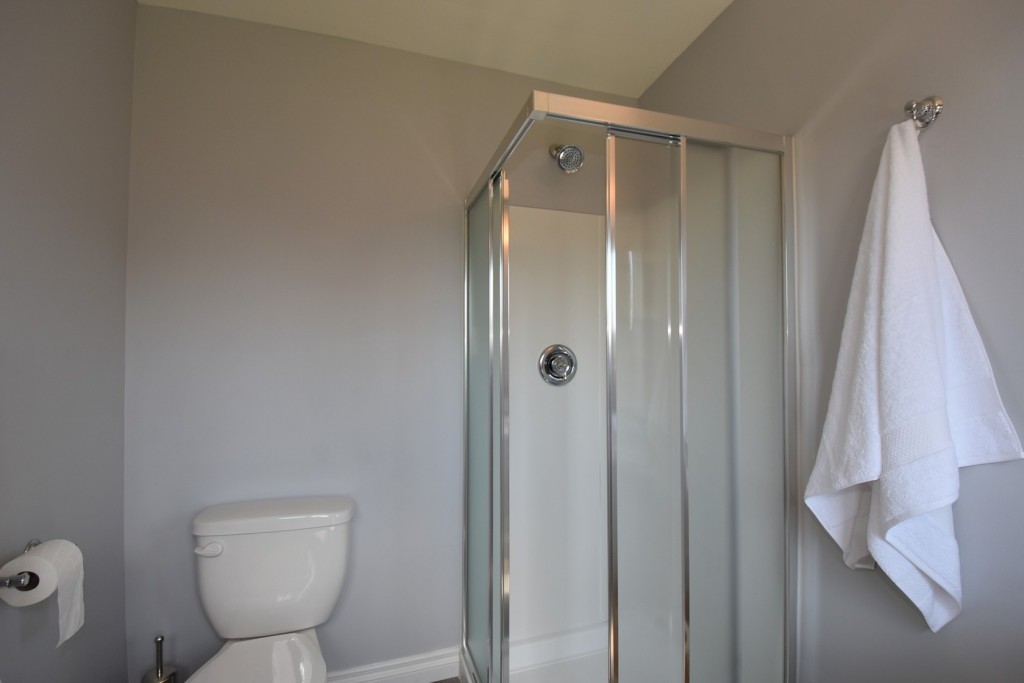 Function first  – ALWAYS.
PS If you didn't catch more of the before photos of this house check those out here.  To continue the tour click here.