With the holidays quickly upon us lets forego the consumer cash cow frenzy and take this opportunity to slow down and reflect on what we're thankful for, and more importantly do kind things for others.  At the center of that all is simply one thing: happiness.  This will, of course, mean different things to different people and is the farthest thing from a constant in anyone's daily routine but with all the crap going on in the world today, I hope that this holiday season you'll rediscover joy in yourself, and therefore those around you.  I was reminded of this exact sentiment when I had the opportunity to see the premier of the film 'Go Fish' earlier this fall at the Muskoka International Film Festival.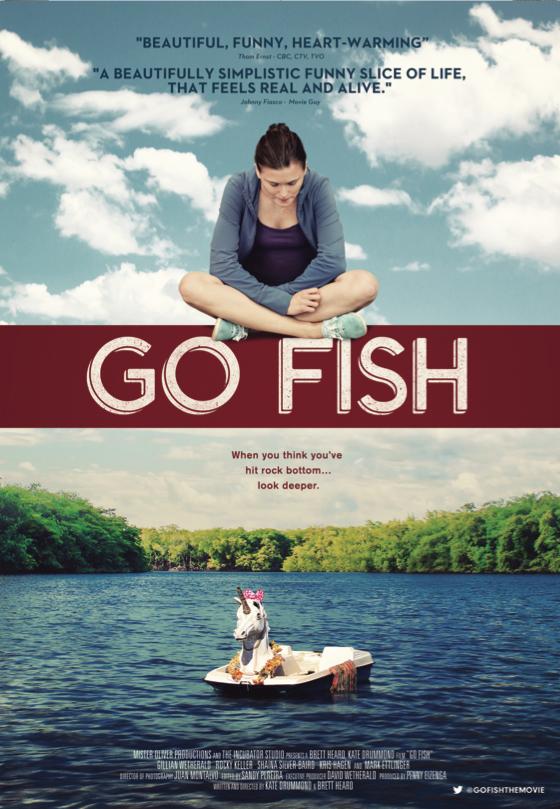 A heartwarming story set at a Lake Muskoka cottage, this powerful film speaks to a young woman, Erica Clements, and her fall from grace.   Clements reminds me of every other Muskoka cottager, BLESSED of good fortune but totally takes it for granted (yes I'm guilty too!).  Her mom however suddenly passes away which sends her dad into the depths of depression. Their lives subsequently get turned upside down and with it the cottage gets sold. Lucky for Erica her dad either originally had two lots side by side, or he severed it in the process, so she still has lake access but watching the new neighbours, the Spencer's, similarly aged daughter living what should have /would have/ could have been her life in her old cottage is a serious and daily reminder of hitting rock bottom.
The brainchild of award winning writer, director, producer Brett Heard and long-time actress but first time co-writer/director Kate Drummond, Go Fish is a  heartwarming story about love, loss and reflection that sees a seriously bitter Erica adamant to regain the life and status she once had.  The comedic nightmare that follows ironically delivers her to an enlightened state she never even thought possible.
Gillian Wetherald, Rocky Keller, Shaina Silver-Baird and Mark Ettlinger do an incredible job of making this first class feature – and I guarantee whether you are 13 or 70, cottager or resident, or have no clue where Muskoka is, after watching it your perspective on what's meaningful in your life will shift.
It was a huge wake up call to me that despite seeing my neighbors on the dock one weekend after the next for 30+ years and being proud that I know the names of all their family members, I actually live next to these folks and haven't the foggiest what many of their stories actually are, or what they are going through, which is in no uncertain terms brutal.  This film inspired me to make time to canoe or kayak over next summer and do a better job of being a real neighbour.  Kate told me that others really connected with the issue of losing someone close and that the Coping Centre which centers around grief deemed it "the best film on loss to come out in years."
I seriously encourage every single Muskoka cottager to put it on your must-watch list …when available. We'll report back on how you can do that, but I'll also crusade for a screening at the Gull Lake Outdoor Movie Nights – Summer 2017 (ahem, town of G).  It's SO powerful on so many levels …but its also awesome to see Campbells Landing on the big screen in all its glory!
It's my hope that I see fewer white swans and more unicorn paddleboats around the lakes in summer 2017; a powerful reminder to all our over-privledged selves.  Focus on your own happiness this holiday season and see what an incredibly liberating and powerful path it is.
#gofish #gravenhurstproud #mustdomuskoka
PS a huge kuddos to Vince Grittani, the creator of the Muskoka Film Festival, for making it a part of my Muskoka cottage journey.  Muskoka in the Movies – lets get behind this concept; it's not only big bucks for the community but lets us collectively share the power this fabulous place has far beyond our own reach.  #muskokainthemovies