Muskoka – the land of DIY projects, and many of them not intentional!   It's probably one of few places in the world where the hand-me-down capita, in both properties and contents, exceeds any other place in the country.  Why?  I can't answer that but every single person who has spent time here has some personal connection to the area, and with that comes buildings full of stuff that has a story.  Phrases such as 'my grandfather made that' or 'my mother got that at X' are so common place that DIY, up-cycling and repurposing are always a higher priority than tossing items in the trash.  The most common issues in getting to the other side however are: finding the time to execute a transformation of old to new; sourcing the best products to do that with; or even find people to do it for you –  for a reasonable price.
My first paint project was a seriously beat up dresser, which I posted about here.  I'm still short a proper after shot but this white/blue combo is certainly an improvement 4 coats later – and  it was so easy to do!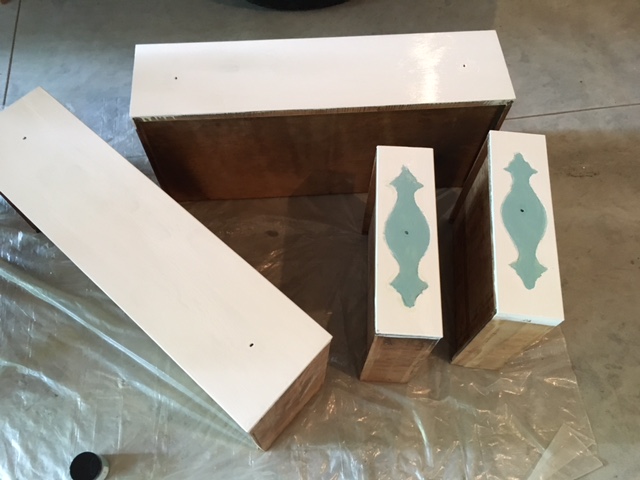 Then there was the lot of chairs, which frankly have been in the restoration section of the garage for far too long, but this summer dock-versus-garage time wasn't remotely a competition.
Every single time my family goes into the garage they can't resist telling me how hideous this one in particular is.
I still have yet to finish any of the them fully, but the point in showing you the in progress is introducing you to Chalk Paint™ decorative paint by Annie Sloan if you have any old furniture that needs a fresh look.
I didn't do any prep (yes that means no sanding!), I gave my 3.5 year old nephew who stated 'I want to paint' a brush, and we went to town.  4 quick-dry coats later (which may be required with Pure White, but you might get lucky with fewer), voila!  Having met Annie this past spring I took the liberty to ask her some burning q's.
Q: There seem to be a pile of companies offering chalk or decorative paint, but given your recent anniversary it seems you've been around the longest.  Are you flattered with the foray of others or annoyed?  Give us the scoop on what it's been like from your perspective.
A: Of course, imitation is the highest form of flattery, but it also has its downside. Sometimes others use the term Chalk Paint when in actual fact their paint is nothing like the Chalk Paint™ I created years ago. This can be confusing and misleading to the customer.
Q: You sought up a better option 25 years ago but we've since seen the fortune 500 types like Para and Benjamin Moore perhaps follow you into the world of low VOC etc.  Can you break down how Chalk Paint decorative paint differs from regular paint then vs now?
I have always wanted my paint to be water based and environmentally and ecologically friendly.  Twenty-five years ago, people were already talking about environmental factors. I think all paint companies have been going in this direction – not just me.
Q: You've penned no shortage of books with the most recent being a workbook.  In a time where the world seems to get more technological by the hour you seem to be going the opposite way stating  "I use a workbook to sketch ideas for a new piece of furniture, for pattern making and color combinations with paint, and to note down thoughts, as well as to have a book to feel interested in.  I carry it around with me so that I'm always ready to draw something or jot down ideas."  Do you use any tech tools or apps to help you do this on the fly and without paper?  How do you feel about the intersection of technology and painting?
Obviously, I would be mad not to use the Internet and social media and note-taking apps, but for me there is nothing that beats pen and paper. It's like asking me to paint a piece of paper online. You actually physically have to do it!!
Q: Talk to us about your brush line – we were smitten when we saw it.  When did this come into the fold and how was the experience of routine brush to your design different?  Moreover what's the cleaning situation like with your brushes?  Now that you can buy decent brushes at the dollar store for $2 many are painting and tossing; what should one expect the longevity of an Annie Sloan brush to be?
A: Two dollars and a decent brush don't go hand to hand to me, I'm afraid. Good brushes will last you a very long time, and you simply need to clean them with a little soap and water. You can even add a little hair conditioner to keep them soft, if you like.  I always hang my brushes upside down to dry.

Q: We always love a good family story …. what was David doing before Annie Sloan took off as a brand and how did Felix and Lizzy get roped in to join the team?  Does everyone have a different role?  What's it like having them by your side?  Are they artistic?  Do they love painting?
A: It's a real family affair, not only because my family works for me but because I want my company to have the closeness of a family. My husband, David joined the business gradually about 10 years ago. He had been working in the corporate world. I would not say he's a painter; he's more of a numbers man, so we make a good team. Felix has a background in graphic design and has been involved in the company since he was 16, and is very creative. Lizzy, Felix's partner, was an account manager at a creative agency. We never anticipated it would evolve into something so big, but it all just fell into place.
Q: We're guessing free time isn't really your thing but dying to know when and what the last piece of furniture you actually painted for yourself was.  Any personal paint plans on the horizon?
I paint loads of furniture, but unfortunately not a lot for myself by comparison. My next project for my home will be my dining room table. Sometimes I do things for my work and decide I love them too much to part with them.
See for yourself: the not-so ugly chair now.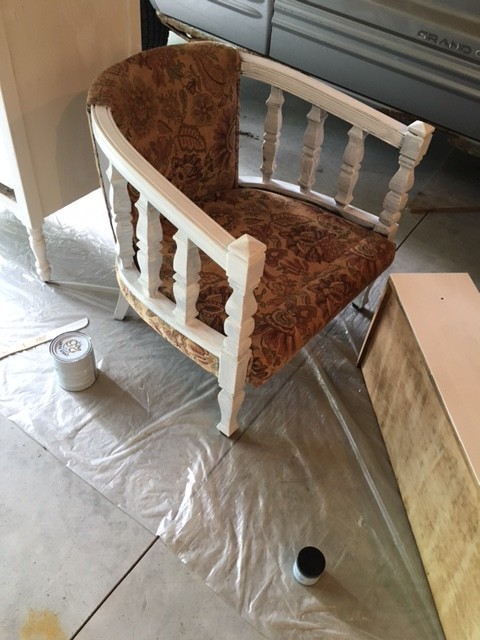 We'll be sure to show you full before and afters once the upholstery is done!

Want to try Annie Sloan Chalk Paint™ for yourself?  Post a pic of a piece of furniture that you want to repaint with it, use the hashtag #muskokamakeover and tag @rsmuskoka @anniesloanhome on Facebook or Instagram by 9pm EST on Thursday, October 13th and we'll send one lucky winner a mini project pack.