Until today I had no idea that U-Haul produced useful data, but when I think about it what a goldmine!   Allegedly the most sought after in the industry because its the most comprehensive I do buy in, simply because moving companies are expensive and DIY is all the rage.  The more equipment and locations customers go to, the better any dataset is (yeah I'm a NERD).  There's no question U-Haul goes to more places on a map and outdoes any other mover in terms of volume of people using it, but for reals I wasn't expecting Gravenhurst, the town I now call home, to end up on their Top 25 Growth Cities in Canada for 2016!!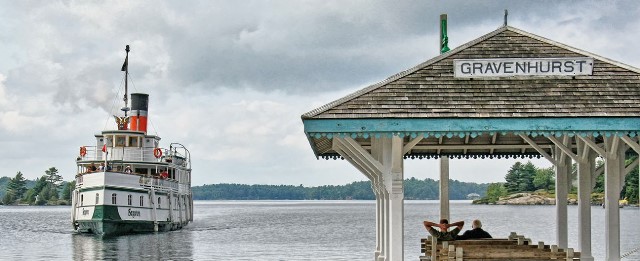 I mean, when we moved to Muskoka we looked at the cost of sending an empty truck back to the city and instead opted to get a U-Haul, drive ourselves but have guys to do the load/unload.  Of course, it went completely sideways when the truck return was late and my loaders were standing there twiddling their thumbs, or when I booked a 26 ft truck to show up and be given a train (so fun to back up!) but we survived – and breakfast at Skyways upon return, well that's like the best local secret around!
So what number was Gravenhurst on the top 25?  F-O-U-R.
That's right: from trend data of 1.7M one-way U-Haul rentals in 2016 in Canada, Gravenhurst is no. 4, behind only Kamloops, Belleville and Guelph.  Last year it was on the list too, but held spot 17.
U-Haul locations in Gravenhurst saw 59.7% of one-way truck rental customers coming in as opposed to leaving. Gravenhurst had a 25% increase in one-way truck arrivals year-over-year, while departures rose 4% over the same span.
I am SO not surprised with all the incredible stuff going on in this ever-growing town.   Speaking of which, I have been meaning to post more often and loop you in on all the cool stuff going on at the South end of Lake Muskoka but between design and reno's, skating trails, snowmobiling, and most recently sleigh rides, finding the time has been challenging aside from Instagram here or here. I do intend to get better at that but for now just remember:
Resident or seasonal resident, if you are looking for a place which …
still has affordable real estate
an insanely creative line up of creative like-minded entrepreneurs and biz professionals
incredible programming for your hobbies, passions or want-to-learn wishlist
great schools with the most fabulous educators
an ah-mazing quality of life with every activity imaginable out your back door no matter the season
a growing town that loves collaboration
a place that cherishes heritage but throws serious props to diversity in background, experiences and skillsets
You should be a U-Haul 2017 stat and consider Gravenhurst … especially if you like snow!
In all seriousness, if you need ideas, or questions answered about moving to the area, or want to bounce a biz idea off someone local who can play cottager and resident, don't hesitate to reach out.  Besides I can hook you up with other useful Gravenhurst data nerds who can give you far more useful intel than Google ever could.  Even if you just want to come for summer to start ….we promise to make it so good you never want to leave!
Top 25 U-Haul Canadian Growth Cities
1.      Kamloops, B.C.
2.      Belleville, Ont.
3.      Guelph, Ont.
4.      Gravenhurst, Ont.
5.      North Bay, Ont.
6.      Parry Sound, Ont.
7.      Woodstock, Ont.
8.      Trenton, Ont.
9.      Chilliwack, B.C.
10.   Ottawa, Ont.
11.   Midland, Ont.
12.   Strathroy, Ont.
13.   Chatham, Ont.
14.   Kingston, Ont.
15.   Vernon, B.C.
16.   Orillia, Ont.
17.   St. Thomas, Ont.
18.   Penticton, B.C.
19.   Peterborough, Ont.
20.   Halifax, N.S.
21.   Huntsville, Ont.
22.   Nepean, Ont.
23.   Simcoe, Ont.
24.   Merritt, B.C.
25.   Elliot Lake, Ont.
For the full report click here.